COVID-19 : General Operational Changes 
The following is a list of operational changes regarding the 2020 Door County Century ride and its response to the current (June 2020) climate regarding the COVID–19 pandemic, Door County Health  Department guidelines, and basic rider expectations. 
2020 DCC will feature a reduction in event capacity and registrations to provide a 50

%

rider

density on courses/at rest stations throughout the county vs 2019 levels.

2020 DCC will allow a two hour longer window of departure

(

6am

–

noon rather than 6am

–

10am

)

to allow for reduced congestion on roadways and rest stations. As always, there will be no roll-out start at a specific time to ensure the safety of our riders and lessen gathering group size.
2020 DCC will be modified to eliminate large group gathering opportunities:

No rental of the Door County Fairgrounds as host facility.

No DCC Cycling Expo (Vendors, Seminars, Promotional Activities).
No in-person packet pickup services. All materials will be pre-mailed to participants.
No in-person registration opportunities. Only online provisions. No cash registers/touchpads
No food sales/beverage sales.
No sit-down, post-event dinner.
No post-event party, entertainment, or beverage service.

2020 DCC will provide PPE in the form of a faceguard

/

neck gaiter to each participant as part of

the pre-mailed event packet

2020 DCC will provide a

$

10 Destination Door County gift certificate to each registered rider in l

ieu of a catered dinner and will include in the pre-mailed event packet
2020 DCC rest areas will feature a menu of mainly pre-packaged food, with all food and beverage service being carried out by gloved and masked service staff and volunteers.
2020 DCC will provide hand washing stations at all gathering spaces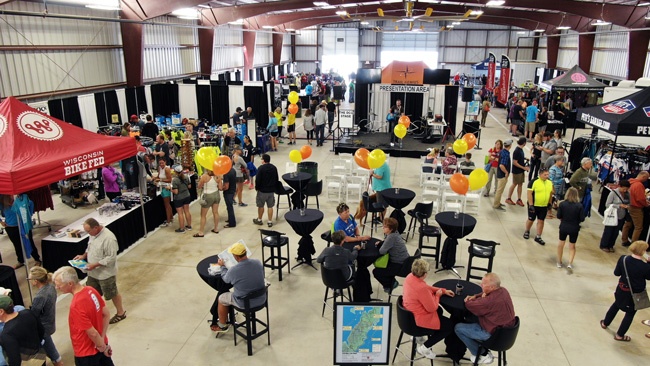 2020 Exhibitors
| | | |
| --- | --- | --- |
| Blue Steel Bikes | Embark Maple | Fat Tire - New Belgium Brewing |
| EO Gear | Pete's Garage | Mr. B's Food Truck |
| Velorosa Cycling | RUBY Colorful Coffee | Pactimo |
| Door County Sunglass Company | The DCC Apparel Store | Cannondale |
| The DCC Bike Tech Center | Bike & Body Studio | Better World Club |
| Creative Magnets | Wisconsin Bicycle Federation | Tundraland |
| Stadium Bike | Velocity Multi-Sport | Paramount Performance |
Due to high demands for lodging, DCC organizers have arranged for off-site camping at the Door Devils Motorcycle Club property, just north of Sturgeon Bay.
This facility is private property and only vehicles displaying an official DCC entry decal are considered special guests. All other vehicles will be turned away and violators will be considered trespassing. The camp area grounds are approximately 6.5 miles from the Door County Fairgrounds. It's a 6-minute drive or a short ride by bike.
The 40-acre open facility allows campers to set up camp as you please. Set-up is first come, first served. Small campfires are allowed, but formal fire pit amenities are not provided. This is a DRY CAMPING property. There is no water provided at the grounds. All wash and drinking water must be carried in by campers.
Tents, pop-ups, travel trailers, and motor coaches are all allowed. You are only charged only for the vehicle providing motorized power, which enters the property.
Please remember to purchase campfire wood and water before leaving Sturgeon Bay! If you intend to use your personal camper restroom and/or kitchen facilities, you will be responsible for arranging dumping at either a private campground in the area or one of the Wisconsin state park campground facilities.
Camping Fees
$25.00 per motorized vehicle, per night
Sign up at time of online registration
A vehicle decal prepared for each night of stay will be mailed prior to the event. With the decal, vehicles are free to come and go as they please.
What is included?
A nearby and inexpensive place to set camp
Vehicle entry decals
Dumpster refuse services
Portable toilets
What is not?
Water (of any kind)
Fire wood
Food or Beverage
Dumping Facility for Gray or Black water
All routes start and finish at the Door County Fairgrounds in Sturgeon Bay (814 N. 14th Ave.).
Breakfast from The Booyah Shed is available for purchase before you head out. Enjoy complimentary coffee from Ruby Roasters and take advantage of the water filling stations. Our on-site bike tech area opens at 5:30 a.m. for any last-minute mechanical needs.
The DCC departure window for all riders is from 6:00 -10:00 a.m. To allow our delivery staff, rest station volunteers, and public safety personnel to fully prepare the course and rest stations, do not depart the fairgrounds in Sturgeon Bay any earlier or later than the specified time window. Please allow enough time to complete the route you have chosen before 5:00 p.m. Your planned distance and anticipated pace should dictate when you start.
| | |
| --- | --- |
| 100 Mile Route | 6:00 – 8:00 a.m. |
| 70 Mile Route | 7:30 – 8:30 a.m. |
| 50 Mile Route | 8:00 – 10 a.m. |
| 30 Mile Route | 9:30 – 10:00 a.m. |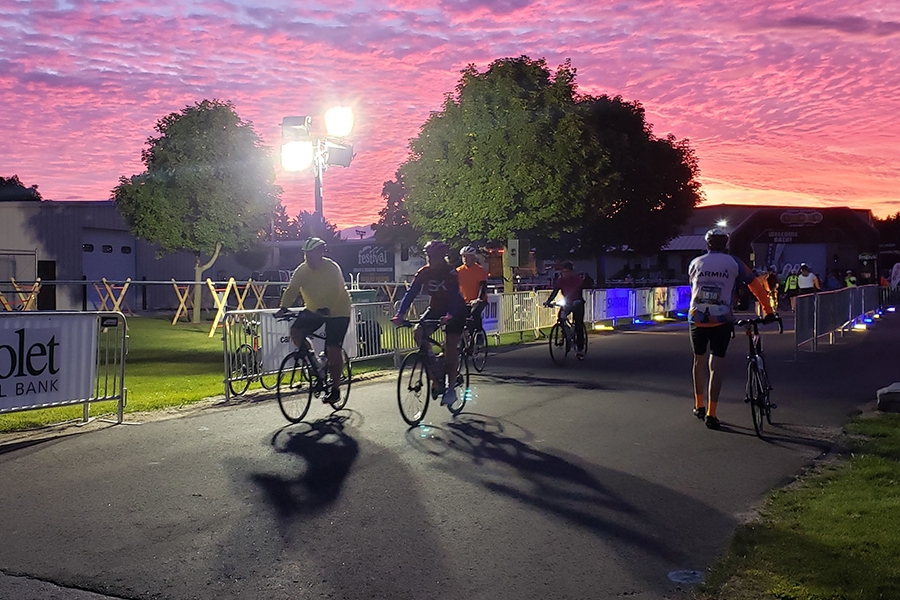 Ride Rules
Safety of all riders is the highest concern for the organizers of the Door County Century ride. We want all riders to enjoy the DCC experience at each of their own riding abilities and comfort levels. Please be respectful to each other on the roads and make this ride positive and enjoyable for all. To this end, participants are asked to obey the following rules:
FOLLOW THE RULES OF THE ROAD – The course routes for the Door County Century are on public roads which remain open to motorists during the event. All riders are expected to follow the rules of the road. This includes recognizing that motorists have the right of way. Riders must stay on the right shoulder of the road and as much as possible and ride at a maximum of two abreast, especially when motorists are present. Crossing the center line of the road is strictly prohibited and you could be cited by law enforcement.
HELMETS REQUIRED – All participants must wear an ANSI approved bike helmet at all times while on the course route. Violation of this rule will result in future ineligibility to participate.
WATCH YOUR SPEED – Riders are free to ride at whatever pace they desire but are urged to exercise caution during the downhill descents. Historically, most of the accidents at the Door County Century have been caused by excessive speed on the hills. Ride within your abilities and slow down on the descents.
TRAFFIC SIGNALS AND INTERSECTIONS – Because course routes use streets which are open to typical traffic, all traffic rules apply. This includes stopping at intersections with signs or signal lights and obeying police orders when applicable. This is especially important when crossing State Highways 42 & 57 as well as County Highway A. Also, because Door County is a tourist destination and offers spectacular views, motorists may slow or stop unexpectedly or may be inattentive. Riders need to be aware of these risks and must ride in a defensive manner.
Rest Stops
Rest stops will be located approximately every 15 miles. There will be Gatorade, water and ample amounts of food. Each rest stop will also offer technical assistance, first aid supplies, and rest rooms. The printed maps on ride weekend will provide the location and time of operation for each rest stop. A rider's Door County Century wristband is their ticket for food and beverages at each rest stop. Visit our course page for details on the rest stops along each course.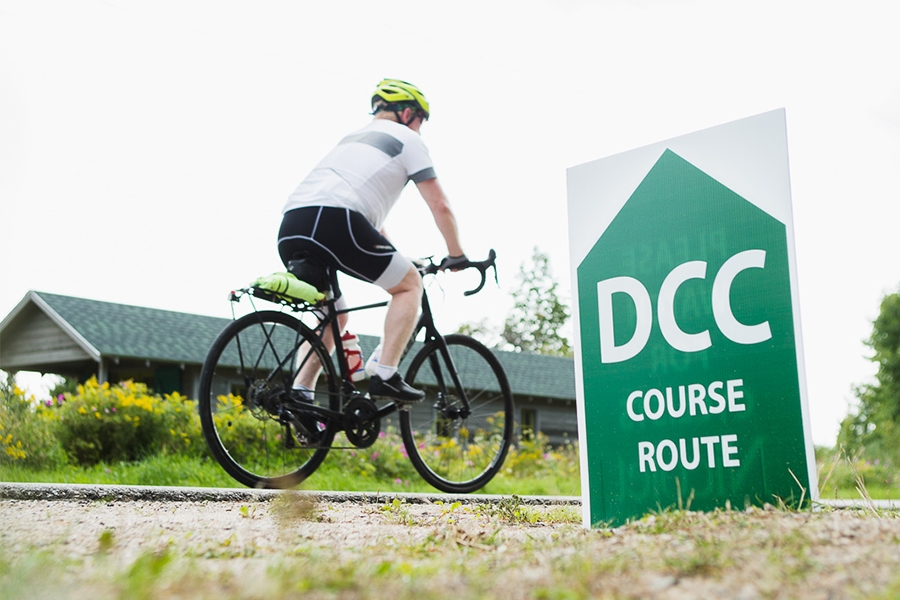 The post-ride dinner begins at 11:00 a.m. and ends at 6:00 p.m. on Sunday, September 13th at the Door County Fairgrounds in Sturgeon Bay.
Each paid rider must present their rider wristband for admission to the dinner. Any non-riders may purchase tickets at the entry to the dinner line, but not in advance. Tickets are $10 for adults and children over age 12, $5 for children ages 6-12, and free for children ages 5 & under.
The menu is announced in August prior to the event. Be sure to subscribe to our newsletter and follow our social media pages for details.
As always, there will be the following items:
Door County Cherry Pie
Plastic-Free Water Option and Bottled Water
Chocolate Milk
Flavored Sparkling Water
Frost Top Root Beer
Fat Tire and Featured New Belgium Brewing Specialty Beers
Two complimentary beverages are included with your rider wristband.
Enjoy live entertainment in the Nicolet Bank zone, pull up a stool in the Cannondale Spokeasy and reminisce with friends about another epic ride.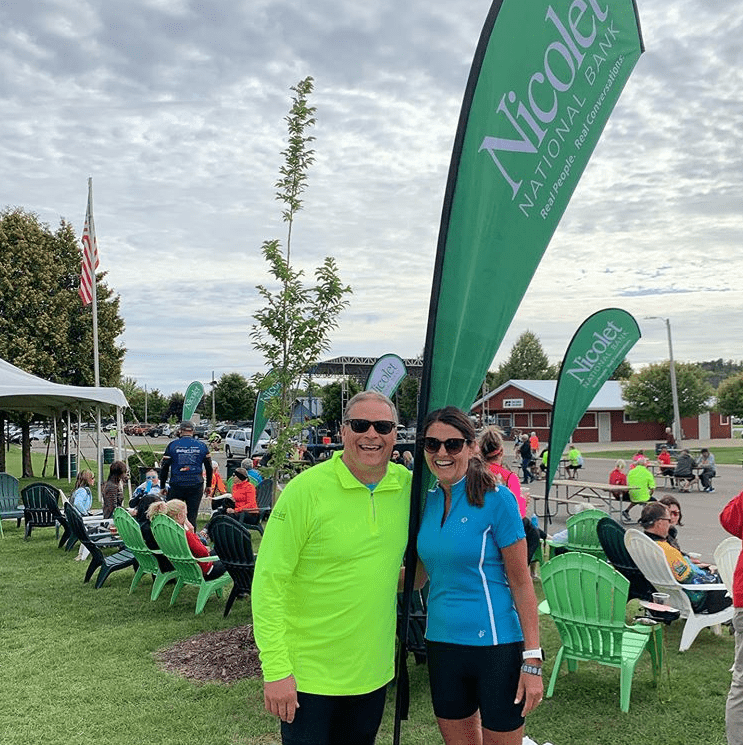 Door County is a popular tourism destination throughout the year.
While ride weekend is in the sweet spot following Labor Day and before fall visits surge, it's best to book your accommodations early. Visit the Door County Visitor's Bureau website for lodging options.
The start line, finish line, and DCC Cycling Expo are located at the Door County Fairgrounds complex
812 N 14th Ave, Sturgeon Bay, WI 54235
From the south, drive north on Highway 42/57 to Sturgeon Bay.
Cross the large shipping channel bridge and continue on for one mile. Please watch your speed; the limit is 45mph.
Turn left on Michigan Street by the YMCA and go west for 0.7 miles.
Turn right on 14th Street by Sturgeon Bay High School and continue north for 0.7 miles to the fairgrounds on your right.
Park in front of the grandstand in the paved parking lot.